Ask the experts
Here is a selection of Q&As from Your Kent Wedding magazine. If you would like your question answered by our experts, please email it to editor@yourkent.wedding.
To view more Q&A's on a different topic, please select one from the list below.
Hot topic: Big vs Small
Our experts are on hand to help you create a fabulous big day that's sure to wow all your loved ones
---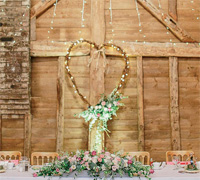 Floral fancy
Q. We love flowers but don't have a huge budget set aside. We're marrying in a barn next spring and there are lots of beautiful blooms outside but how can we make the inside feel just as magical?
A. Jo Moody says: Spring holds an abundance of floral variety. There are so many different types of blooms that offer different shapes, textures, heights, colours and scents. If you don't have a huge budget for flowers then this is an ideal time to plan a wedding as spring flowers are relatively good value for money.

Daffodils, tulips, anenomes, iris', hyacinths, freesias, ranunculus, genistas, forsythias, cherry blossoms, lilacs and contorted willows are all widely available and offer a range of design ideas.

A good way to create impact in a barn is to mark out specific areas for bigger impact arrangements. I'd suggest spending a good chunk of your budget around the top table area and at the entrance to the barn. Rustic, willow hearts, milk churns, upcycled fruit crates and wicker baskets are all fabulous accessories for your chosen venue. For your guest tables, small inexpensive containers such as jam jars, zinc containers or terracotta pots would be perfect for the likes of smaller blooms. Fill the jars in a natural simple style and complete the look by surrounding them with candle votives.

Alternatively use a larger single interesting container filled with a loose mixed handtied arrangement of spring flowers. Anything goes really but think upcycled rustic crates, zinc watering cans or terracotta pots.

You don't have to stick to low arrangements either. If you wanted a taller display then tall stems of forsythia, contorted willow or cherry blossom arranged into tall supporting vases would create real wow factor and impact at relatively low cost.
---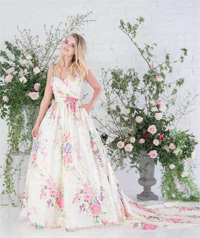 Body beautiful
Q. I'm a fairly body-confident bride with a pear shaped figure. I'm 5ft 6 and can't decide how to choose between a big dramatic gown or a small understated dress. How can I pick?
A. Jeska Hammond says: Your dress must be a true reflection of you and your personality. Narrow down what's important to you to ensure that your dress showcases your personality, you as a couple and your chosen venue by visualising you walking towards your fiancé for the very first time wearing your wedding dress. Don't just think about colours or fashion, look around your home and what you enjoy doing together. Are you sporty, old romantics, glamorous or quirky? What style suits you best as a person and what are your 'best bits' that you'd like to show off? What your little list will help define is your wedding day style and what look you wish to create. Then, as you continue with the planning of your special day, you can refer to your list should you feel overwhelmed by too many choices..
---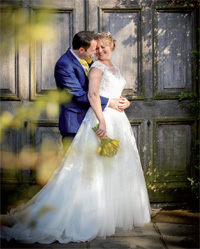 Love and marriage
Q. My fiancé and I have just got engaged and believe that the photos are such a key part of the wedding. We've just started researching photographers and they're all so different. Especially their prices! How do we choose a good one?
A. Nicky Tulip says: Photography is definitely one of the most important elements – after the day the photos become so valuable, so are definitely worth an investment. I'd advise identifying the style you like. Look around at a variety to get a feel for photos you like the look of, visit wedding fairs to see if you get on with photographers and feel comfortable. It's all very well them taking fab shots but if you don't feel comfortable it will show in the images.

Pricing is difficult as I know they vary from a few hundred pounds to several thousand, but you do get what you pay for. Quality won't come cheap; equally you'll pay silly money for 'designer' items.

I once read that five -ten per cent of the overall cost of your wedding should be on photography, which seems a fair budget.

To give you an idea, a professional photographer will take around five days to produce images from your wedding day on a digital package, including coverage time and editing and meetings, so you pay what you think this time is worth. Asking questions like – 'Will you edit the photos?' 'Do we have a meeting with you?' 'Will there be an engagement shoot?' All are ways of knowing the level of work they will put in for you.
---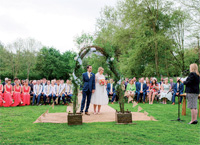 All together now!
Q. We have so many friends and family members that a big wedding is looking inevitable! How can we make sure everyone feels included and special?"
A. Katie Keen says: A wedding, especially one on a large scale, brings many different people together, some of whom won't have ever met before, so it's a good idea to arrange something to break the ice prior to the big day. A 'mix and mingle' picnic, barbecue or dinner perhaps the day before is a good way to do this.

Why not ask your celebrant or vicar to include a thank you to all guests for coming to the wedding in their introduction, mentioning special people by name, particularly if they've come a long-distance or from overseas?

When your guests RSVP, ask them to suggest their favourite music that will guarantee them to get on the dancefloor with you. Don't forget to ask your DJ or band to play a wide selection of music that will appeal to all age groups represented at your wedding – including your granny!

Helpful roles can be assigned to friends and family on your wedding day, for example, someone in charge of parking, handing out buttonholes, acting as master of ceremonies, or helping your photographer gather people for group photos. People really like to feel useful!

You could prepare an order of service or wedding programme introducing the members of the wedding party; why not get creative and make it humorous? Alternatively set up a dedicated wedding website with photos and information for your guests to check out before the big day.

If guests have travelled far to attend your wedding make them feel comfortable by providing a few essential toiletries – think breath mints, deodorant, or suncream if it's a hot day, and plenty of bottles of water will always be welcome.

To keep younger children entertained whilst allowing their parents to enjoy being a wedding guest, consider hiring in a professional crèche. Often they will bring toys, garden games, craft supplies and activities. If you're having a festival or outdoor wedding, why not set up a special tent or tipi just for the kids. Remember, happy children equals happy grown-ups!
---
Contact our experts...
Jeska Hammond
Bridal boutique owner

Jo Moody
Florist

Katie Keen
Independent celebrant

Nicky Tulip
Photographer
---