Ask the experts
Here is a selection of Q&As from Your Kent Wedding magazine. If you would like your question answered by our experts, please email it to editor@yourkent.wedding.
To view more Q&A's on a different topic, please select one from the list below.
Hot topic: A touch of romance
Our experts are on hand to help you create a big day that's sure to wow
---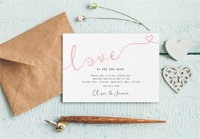 Love letters
Q. As cheesy as it sounds, the theme of our wedding day is love. What's the best, most sophisticated way of incorporating this into our stationery?
A. Heather McMillan says: Love represents different things to different people. Why not ask your guests to ponder what it means to them with a typographic wedding invitation?

Typographic designs can be beautifully simple and super-sophisticated. Romantic words and stylish letterforms make the perfect match. Nothing says romance quite like the nostalgic letters of a vintage typewriter, evocative of romantic love letters posted from afar. Set the tone for your day with 'love is all you need' as the focus of your invitations, possibly in a gold foil to really impress. Choose elegant textured papers in white or ivory.

Run little phrases through your other stationery items, putting into words what love means to you and your partner. Place comment cards on your tables asking your guests 'what does love mean to you?' What a wonderful memento of your day and how fitting to encourage your guests to really think about why they love the one they do!

Alternatively, don't be afraid of the humble heart! There are many ways to feature heart motifs without being cheesy – heart shapes made from special words, intricate laser cut heart designs, or how about using your fingerprints to make a heart shape for a truly personal touch?
---
Calm and collected
Q. I'm obviously hoping for a really beautiful, romantic wedding but I'm a terrible worrier. Is there anything I can do to calm my nerves as I really want to only think about enjoying the day?
A. Sophia McEwen says: It's every girls dream to have the perfect wedding but there are often many months of build up, high expectations and even higher expenses to add to the stress and inner turmoil of planning a big day.

Specifically for wedding day nerves I'd create a Bach Flower blend including Aspen for reassurance and calm, Larch for confidence and Mimulus which counters anxiety, known fears, shyness and nervousness and promotes courage and faith, together with White Chestnut for persistent worries. This would also help with sleep issues.

My final advice for your special day would be to try to focus on your wonderful partner and true reasons for marriage.
---
Romance in the air
Q. With such a mix of ages crammed into a very small space I'm worried that the most romantic day of my life won't feel very romantic. How can we juggle the numbers to create the right sort of atmosphere?
A. Michael Taylor says: Making that big decision on who will make it on to your final guest list always becomes one of the most difficult decisions for any future couple planning their big day. Venue capacity, and of course your budget, also contributes. One of the most difficult decisions among family members is of course younger guests being invited and the worry that the most important, romantic day of your life could turn into a family play date! Creating an area for little ones to play in, which most venues will accommodate for, and adding entertainment and supervision will leave your main areas as intimate as can be on any wedding occasion.
---
Picture this
Q. We're getting married in February and want our day to be as romantic as possible. What type of photographs should we request as we hate anything too cheesy?
A. Catherine Barnes says: My first piece of advice, if you haven't done so already, is to pick a photographer with a lovely soft, romantic style that reflects the approach you have in mind. If you hate cheesy photos (which I completely understand!) then keep an eye out for someone with a portfolio full of natural images that clearly capture the love between two people, as well as the other emotions that make up such a special day. Talk to them about what you envisage for your wedding photos and make sure that you're on the same page.

In my opinion, the most romantic images are the ones that feel natural, intimate and candid. Don't be afraid to get super close to one another, and snuggle up – put your arms around each other and forget everything else that's going on around you. I usually prefer photos where the bride and groom aren't looking at the camera and smiling, but just look wrapped up in the moment and in one another!

Your photographer should guide you, but something else that I find helpful is if the two of you have a little chat as you're photographed – talking about something emotional, like the moment you locked eyes walking down the aisle, usually creates some gorgeous meaningful expressions.
---
Fairytale fantasy
Q. I dream of romantic, dreamy princess hair but don't know what to opt for with my blonde, shoulder length hair. What would you recommend and how can I know the style will last all day?
A. Angela Wiliams says: I love creating this enchanting look. The embodiment of romantic, princess-hair is volume, with big, untouchable, loose soft curls cascading over the bride's shoulders and beyond that importantly don't lose their shape halfway through the vows.

At the consultation stage, I assure my brides not to worry about the length of their hair. It doesn't matter to me, as I use clip-in hair extensions to give body, volume and shape.

Secondly, I share with them that the key to achieving a successful princess look is realised in the preparation stage. Though it may go against their natural inclination, I always recommend to my brides not to wash their hair on the day of their wedding, as this makes the hair too soft to work with.

Starting with their own locks, I use a combination of heated rollers, curling and heated styling equipment to lift the hair. Then I blend in the extensions and I use products that I wouldn't be without, that with my years of experience, I know will deliver their dream style.

If you go for this incredible, feminine style on your wedding day, my top tip is to ask your stylist if they can also offer a return service; just to refresh your locks before the evening celebrations commence. This way you ensure that you continue to radiate fairytale beauty, which is ultimately what any modern princess aspires to achieve!
---
Contact our experts...

Angela Wiliams
Hair stylist

Catherine Barnes
Photographer

Heather McMillan
Stationer

Michael Taylor
Company Director

Sophia McEwen
Herbalist
---