Why you should buy issue 80 of Your Kent Wedding magazine...
September/October 2018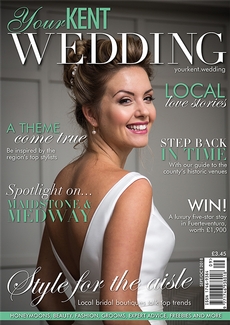 Fuerteventura competition
Win a luxury five-star stay in Fuerteventura, worth £1,900
Over the rainbow
Following an overseas elopement Jade and Darren celebrated their marriage with their nearest and dearest at a bright and bubbly reception at the Crown Lodge, Wye
Sparkle and shine
Deborah and Jonathan celebrated their nuptials in true glitz and glamour style surrounded by loved ones both young and old, from far and near
Tying the knot
Amy and Carl portrayed family pride via a rope and knots theme throughout their autumnal wedding day, filled with friendship and love
A match made in Hythe
Lisa and Gavin met online and immediately knew they were destined to be together
Spotlight on... Maidstone & Medway
Tie the knot in a fabulous local hotspot
Step back in time
Our pick of local venues steeped in history
The light fantastic
This beautiful shoot, set at Hythe's Hayne House, was inspired by the relaxed atmosphere that can be created in their wonderful new Orangery
A theme come true
We've collected some of our favourite themes and sought advice from the county's venue styling experts, to inspire you in your first steps towards the day of your dreams!
Polished elegance
Sophistication and polished style were the inspirations for this stunning shoot, set at boutique hotel, The Royal Wells in Tunbridge Wells
Trendsetters
Fashion experts from Kent's beautiful bridal boutiques discuss current dress trends and give us their picks of these glorious gowns
Movie star magic
This season's bridal dresses have taken Hollywood glamour to the next level
Fabulous fishtails
This favourite style never goes out of fashion
Head turners
These veils, headpieces and accessories will add that finishing touch
Lip service
Pucker up with these products
eMagazine
Available to download NOW for only £1.49
Printed Copy
(inc. free eMagazine)
In Stock
Click here to use our online ordering service
---
Buy a copy
There are 5 different ways to buy Your Kent Wedding magazine.
Click here to view some sample pages from an eMagazine
To order the latest copy of Your Kent Wedding magazine or to obtain back issues, click here.
Alternatively call us to order your copy, post-free for just £3.45, on 01376 514000
Read Your Kent Wedding magazine in electronic format for just £1.49 per copy (Smartphone and Tablet compatible) click here
You can subscribe for just £17.60!
Annual subscription (6 issues)
Save over 15% off the normal cover price
FREE postage and packing
Receive each issue as soon as it is published
To order your subscription, simply call us on 01376 514000 or click here
Alternatively, click here to order an eSubscription for just £7.60
Readers will receive a fabulous bundle from Pro Teeth Whitening, worth £30 when they take out a year's printed subscription to Your Kent Wedding.*

Sign up for a year's subscription and not only will you save money on the cover price, you'll also receive a fabulous bundle from Pro Teeth Whitening, worth £30.

Pro Teeth Whitening provides high-quality, safe and effective teeth whitening products at affordable prices. All products are made from the finest natural ingredients and suitable for vegans and vegetarians.

Check out www.proteethwhitening.co

County Wedding Magazines is delighted to team up with Pro Teeth Whitening to offer readers its premium 14-day teeth Whitening Strips and new activated charcoal whitening toothpaste. The strips are formulated to safely whiten teeth using activated charcoal which helps remove stains and gently whiten teeth. The peroxide-free formula offers professional results in just 30 minutes without causing sensitivity.

When used twice a day, the toothpaste helps polish the surface of your teeth to significantly whiten and brighten your smile. activated charcoal absorbs tannins found in tea, coffee and red wine, all of which stain the teeth. The toothpaste also helps reduce bad breath bacteria, food stains and keep plaque at bay!

All you need to do to claim your gift set is take out a year's subscription!
* Subject to availability
4. Buy a copy from a retail outlet
Your Kent Wedding magazine is available from newsagents and supermarkets.
However, if you do have problems, or if your newsagents has sold out, then call us!
We'll send your copy to you post-free for just £3.45 inc P&P. Simply call us on 01376 514000
5. Overseas Orders
For non-UK customers, please email admin@county.wedding for full details.
---