Ask the experts
Here is a selection of Q&As from Your Kent Wedding magazine. If you would like your question answered by our experts, please email it to editor@yourkent.wedding.
To view more Q&A's on a different topic, please select one from the list below.
Hot topic: Avoiding disaster
Our experts tackle wedding day disasters and how to avoid common pitfalls
---
A smooth ceremony
Q. How can I avoid disaster?
A. Karina O'Donnell says: We've all heard the horror stories. I've known photographers not to turn up, best men forgetting to download the ceremony music and hired port-a-loos blocked before the ceremony has even begun. The last thing the father-of-the-bride needs is to be wrestling with a plunger on his daughter's special day!

My advice to avoid disasters like these?

Don't take unnecessary risks. Rather than getting your friend to download the music onto a phone, pay that little extra for a professional PA system. There are too many variables when playing the ceremony music, especially for an outside wedding. Often the volume isn't loud enough for the guests to hear, let alone give the bride her cue!

Do ask your trusted suppliers for recommendations. Kent has a wonderful network of people, most of who will have worked with each other at some point. I've worked with some wonderful photographers, I know the shots they like to capture so we're able to work together to make sure we don't get in each other's way and they're less afraid of telling me if I accidentally do. Most importantly, they turn up! As for the big occasion, investing in an on-theday coordinator or toastmaster means everything is completely under control behind-the-scenes so you can enjoy it, stress free.
---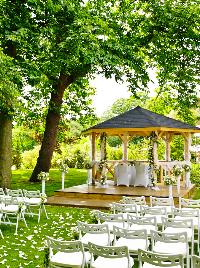 The great outdoors
Q. How can I avoid disaster
A. Natasha Wadhams says: If you're planning an outdoor wedding, pitfalls can be plentiful. Tudor Park Marriot Hotel & Country Club in Bearsted is home to a fairytale gazebo for al fresco ceremonies all year round, so our experienced wedding planners know exactly what to look out for. Here are our top tips to ensure everything goes without a hitch.

- Avoid stiletto heels as these have a tendency to sink into the lawn. Advise your bridal party to do the same.

- Check that the outdoor venue is accessible to guests of all ages and abilities. If there's a short walk from the car park to the ceremony venue, build that time into the invite. Ensure there's disabled access or transport for guests to various spots chosen for photos.

- If you or your partner are hayfever sufferers, make sure you have a trusted remedy to hand. Pollen counts are highest early morning; late afternoon and evening so try timing the official ceremony for early afternoon.

- If children are invited to the wedding; check the outdoor environment is child friendly. Notify parents if the venue has a pond and ask the organisers to ensure appropriate signage to highlight any potential hazards.

- When carrying out pre-wedding venue visits, think about natural backdrops for your photos. Ask the organiser about the types of plants that are likely to be in bloom at the time of your wedding and choose your backdrop accordingly.
---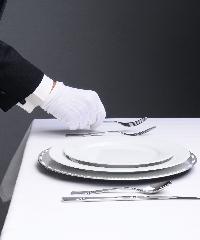 The butler did it!
Q. How can I avoid disaster?
A. Michael Taylor says: In my experience, the happy couple will have been planning their wedding day, whether large or small, for a very long time. So when it finally arrives they expect everything to run smoothly, but sadly, this isn't always the case. The sure-fire way to avoid on-the-day pitfalls is to ensure that the pressure is off your shoulders and in the hands of a professional organiser. Most wedding days will involve caterers, florists, photographers, entertainers, venue wedding coordinators and so on, all looking after their own sections, each playing a major role in the success of your special day. Having someone to be your eyes and ears to ensure your exact wishes are met, while liaising between all elements of the day would be of great benefit to any couple. An experienced butler is just the person for the job. His single goal is to see everyone comes together – helping to create those allimportant special once in a lifetime memories!
---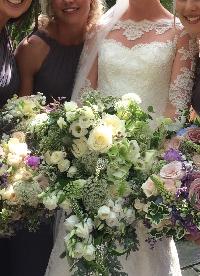 Floral finesse
Q. How can I avoid disaster?
A. Sue Davies says: - Choose your florist very carefully. Request references from previous customers or chat to friends who have been happy with their flowers.

- Provisionally book your wedding date with the florist as early as you can.

- Arrange a consultation meeting. Confidence in your florist's ability is best gained via a detailed discussion. Don't worry if you don't know flower names, as your florist is there to guide you through all aspects of your floral plan, from bouquets and buttonholes to ceremony and venue displays.

- Expect to be offered a free quote after your initial meeting, enabling you to fully plan your budget in advance. Confirm the go-ahead as soon as your decision is final and be sure to ask for images of proposed flowers.

- It's beneficial to use the same florist throughout for continuity.

- Your florist will liaise with your venue directly regarding access and timings, leaving you comfortable in the knowledge that your plan is being taken care of.

For a stress-free day...
Agree a time for delivery of bouquets on the morning of your wedding, around two hours prior to the start of proceedings is about right.

Beware of having to collect your own bouquets the day before. Good management of the flowers is essential to having wonderful looking blooms on the day, so a good florist will have a tried and tested routine for ensuring the venue is dressed on time and the bouquets arrive with you in tip-top condition.
---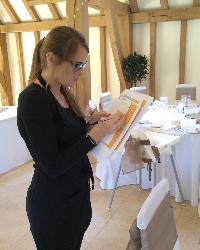 Check it twice
Q. How can I avoid disaster?
A. Claire Weedon says: Wedding day disasters are incredibly rare so don't panic. However, good preparation with a carefully considered timeline, agreed with your venue and suppliers, will help the day run smoothly for you and your guests.

We recommend a carefully constructed plan breaking the day down into segments – the morning, the ceremony, post ceremony, wedding breakfast, cutting the cake, first dance and the end of the evening. Fill in these sections with the relevant people and suppliers involved at each stage along with their mobile numbers. A checklist of any key items required, such as ceremony music, ensures the right people have what they need at the precise time they need it.

Book your suppliers early and make sure you read their reviews and see examples of their work. Trust your venue's recommended supplier list.

Wear your wedding shoes a few times so that they feel comfortable on the day and check dresses and suits thoroughly before leaving he shop.

Most importantly, remember to enjoy it and relax knowing you have meticulously planned your wedding and have assigned tasks to the right people.
---
Contact our experts...
Claire Weedon
Partner at The Old Kent Barn
Karina O'Donnell
Independent celebrant
Michael Taylor
Company Director
Natasha Wadhams
Wedding coordinator
---