Ask the experts
Here is a selection of Q&As from Your Kent Wedding magazine. If you would like your question answered by our experts, please email it to editor@yourkent.wedding.
To view more Q&A's on a different topic, please select one from the list below.
Hot topic: Step into spring
Our experts are on hand to help you create a seasonal big day that's sure to wow
---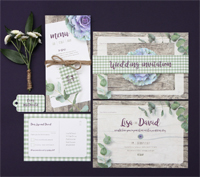 Spring into action
Q. I'd love to take inspiration from the springtime for our stationery. What design options are available?
A. Heather McMillan says: The season of new beginnings; green shoots, gardening, fresh air and sunny days. What better time than spring for two people to start a new life together?

Floral designs naturally lend themselves to spring weddings. Flowers make for beautiful stationery designs but for a modern twist take inspiration from your own garden – there are so many plants with exquisite foliage, from tiny delicate stems to big bold leaves, all with an array of amazing colours. Foliage designs are really on trend – think greens, grape and ivory paired with silver foils for stunning invitations. Finish menus with garden twine and name labels for your wedding tables that can naturally flow through to the design of your floral decorations.

I also love blossom – it's very contemporary. Delicate Japanese-inspired cherry blossoms are superstylish and work so well with blush and hot pinks, pale greens and greys. These lend themselves to the oriental styled weddings I'm seeing a lot of recently – stunning blossoms with paper lanterns, bamboo and origami elements. Look out for much more stationery inspired by oriental themes!

But if you're looking for an alternative to florals and foliage, how about charming little birds? Nothing says spring quite like these delicate little creatures singing at dawn – or why not focus on the dawn itself? A pink sunrise to mark your relationship, with many wonderful days yet to come.
---
Relaxing retreat
Q. We're having a marquee tent around our spring reception space and feel worried that the relaxed atmosphere will lead to chaos rather than calm. How do you advise we control things?
A. Michael Taylor says: The layout of your venue space is an important and key element to the success of your day. If this is a regular feature your chosen venue uses to increase the capacity for weddings, then ask to visit prior to your day to see the additional marquee in place. Ensure your florist and any soft decorations are carried through to the extra space. You want the additional space to feel like an extension to the room rather than an add on. The space should flow so be sure to have the venue organisers place furniture in a way that allows the spaces to join together and create one ambience throughout your day!
---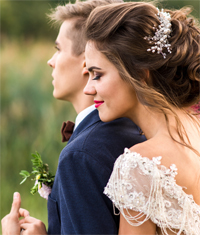 The great outdoors
Q. We're getting married in the springtime and would love to get a few pictures of my partner and I outside. What's the secret to a great outdoor shot?
A. Catherine Barnes says: Spring is such a beautiful time of year for a wedding! Fresh leaves and blossoms in the trees, and such a symbolic time of year for starting this new stage of your lives together.

In terms of capturing a great outdoor photograph, it's always lovely to look back on photos that will remind you of exactly what your day felt like. You could try to find some seasonal backgrounds with your photographer – cherry blossoms in bloom, lambs bleating in the fields – anything that will remind you of the sights, sounds and smells of your wedding day when you look back on them in years to come!

Spring can sometimes still be a little muddy on the ground, so don't be afraid to tuck away a pair of practical flat shoes (or even wellies!) if you have any walking to do – it'll be worth it!
---
Bridal beautiful
Q. I want my hair and make-up to reflect the spring season – so not be too heavy but still remain pretty and feminine. What do you suggest?
A. Ivana Sidey says: This is a great time of year to really perfect a beautiful bridal look. The weather (hopefully) won't be too hot or cold, so you won't have to worry about your foundation sliding off, and you can have fun with pretty feminine touches.

If you dream of becoming a bohemian bride, add a few micro plaits to your locks to add interest or texture and to add a chic new twist to a down do – as seen on the Missoni Spring/Summer catwalk.

In terms of your face, a simple red lip paired with minimal makeup is always a winner and looks eternally glamorous. If you have great skin, a BB Cream such as the Clarins' one will give you enough coverage, while L'Oréal boasts an amazing 23 shades with its True Match foundation so you're sure to find your perfect fit.

A slick of mascara works wonders – discover your new favourite over on our tried and tested page and then a touch of blush will make you look pretty as a picture.
---
Contact our experts...

Catherine Barnes
Photographer

Heather McMillan
Stationer

Ivana Sidey
Beauty Editor

Michael Taylor
Company Director
---